In Shark Tank episode 508, James Ambler introduces Paparazzi Proposals, a pre-engagement photographic business. Guys can use his service to picture and record the moment they propose to their future bride. Photographers for Paparazzi Proposals follow the couple around and take images of their special day, culminating in shots of him getting down on his knees to beg for her hand in marriage.
Every photo package from Paparazzi Proposals includes a consultation, as well as regional maps with suggestions for romantic sites to propose. They'll also assist you with romantic details such as placing flowers in a unique location or setting up a picnic blanket.
The pair is then followed throughout the day, recording the build-up to the big moment. Finally, they'll make a point of capturing her expression when he asks for her hand.
Read More: Everything Legendary Shark Tank- Vegan Burgers Are Now Available in 5,600 Locations!
Proposals from The Paparazzi Recap of Shark Tank
James enters the Shark Tank, offering a $250,000 investment in exchange for a 20% stake in his company. He has a background as a professional paparazzi photographer, and after proposing to his own wife, he came up with the notion of starting a proposal business.
Not only does the package include photos, but it also covers planning, which includes assisting prospective grooms in selecting a romantic place and setting for popping the question. He provides a quick summary of the company before dropping down on one knee and proposing to the Sharks with an origami dollar note shaped like a diamond ring.
"Get off your knees, and let's talk about money," Kevin O'Leary adds, in true Mr. Wonderful style. He's curious as to why James requires the funds. James mentions that he wants to grow his firm into other cities and that he needs to sell it. He's been promoting the service through jewelers, with a kickback program incentivizing them to tell their consumers about it.
Who's up For It?
Robert Herjavec, on the other hand, is skeptical. He's curious as to why James is concentrating on jewelers. James considers social media marketing and networking to be crucial to his success.
He's attempting to gain access to Kay's and Jarrod's jewelry stores. That move, according to Mark Cuban, would be a "big mistake" because the prospective economic expansion would occur quickly, perhaps surpassing his ability to meet demand.
The question sparks a whirlwind of discussion among the Sharks. Lori Greiner believes the company can swiftly scale to meet increased demand, but Kevin O'Leary objects to the $2.25 million prices. He goes out because he doesn't think James is unusual enough.
Mark Cuban feels that James should concentrate on building his business in New York for the time being, rather than attempting to extend into other places. He leaves the house. "I can't see generating money in this business as an outsider coming here," Barbara Corcoran agrees. She also goes out.
Lori Greiner likes the concept, but she doesn't think he needs the money and doesn't think he needs to expand to other locations. She wishes he hadn't placed such a high value on her. She makes a proposal. She'll hand over the $250,000 in exchange for a 50% stake in the company.
Kevin O'Leary speaks forward, offering to accompany Lori Greiner into the room. They'll make a $50,000 investment in exchange for a third of the company, with the possibility to loan him $200,000 if he needs it.
Robert Herjavec provides the identical opportunity, but with a $100,000 investment and the possibility to borrow the additional $150,000. When James continues to waffle, Herjavec abruptly withdraws his offer and exits. Finally, James accepts Greiner and O'Leary's offer of 30% in exchange for $50,000 and the possibility to take out a loan.
Who Is the Man Behind the Paparazzi Proposals?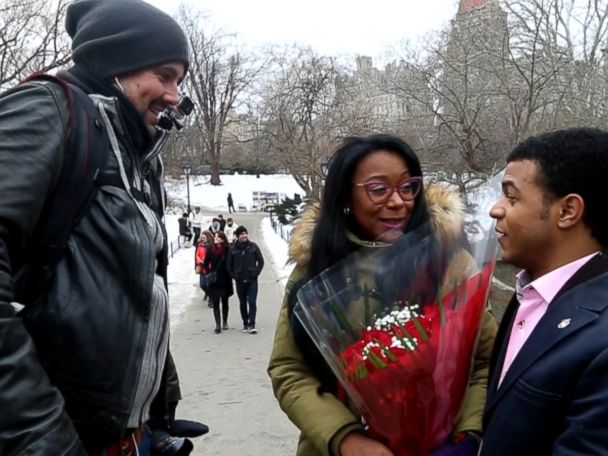 Paparazzi Proposals was founded by James Ambler. After getting fascinated by the propaganda during the Vietnam War, James Ambler studied photography and intended to become a war photographer.
He eventually moved to London to photograph breaking news and events for newspapers, where he learned the skills he required to photograph superstars like Tom Cruise, Tiger Woods, and Angelina Jolie. James has started a GoFundMe effort to aid the people of Bali in their fight against the COVID-19 outbreak.
A New York photographer, James Ambler, works with people who are planning to propose. He helps clients organize their proposals and captures the occasion like a true paparazzi with his camera.
The price of a package is determined by its logistics. In New York City, a horse and carriage ride package cost $750. A bundle for a giant screen in Times Square costs $1500.
Ambler pitched his company, Paparazzi Proposals, on Shark Tank. He was looking for a $250k investment that would yield a 20% return. He sought to broaden the service's reach to include other cities.
Before Shark Tank, There Were Paparazzi Proposals
When James was 14 years old, he and his pals decided to photograph who could perform the most difficult skateboard feats. He took images with his father's old Pentax camera when he visited Thailand and Nepal to see his pals. As a result, when he traveled to Thailand and Nepal, he took photographs.
James experienced two wake-up calls that led to the creation of Paparazzi Proposals. The first occurred when he was 28 years old and required open-heart surgery to treat a clogged artery. Second, he didn't have a photograph of himself proposing to his now-wife, Kate.
After Shark Tank, What Happened to Paparazzi Proposals?
Shark Tank's Lori Greiner appreciated the concept but did not believe Ambler needed money to expand to other cities.
She did, however, make him an offer. She and Kevin O'Leary, whose HoneyFund firm sees Paparazzi Proposals as a logical fit for its portfolio, provided Ambler $50,000 in exchange for a third of the company, with the option of a $200k loan if needed.
Despite accepting the show's offer, Ambler ultimately declines to sign. In addition to Chicago, San Francisco, Los Angeles, Boston, and Minneapolis, Paparazzi Proposals also offers packages in a number of other cities.
Read More: Unikey Shark Tank- After Shark Tank, What Happened to UniKey?
Proposals from The Paparazzi Update on Shark Tank
On the Shark Tank broadcast, Lori Greiner and Kevin O'Leary agreed to invest in Paparazzi Proposals, but the deal was never completed. Following their debut on Shark Tank, the Paparazzi Proposals gained a lot of attention.
According to an update from August 2021, Paparazzi Proposals has 37 sites, including one in Paris. Paparazzi Proposals even promises to send a photographer to any location in the entire US within 24 hours.
Paparazzi Proposals is still doing strong, producing $13 million in yearly revenue and forecasting significant growth in 2022.
To Know More Latest Updates You Can Visit Our Website: https://browsedesk.com/